"Paxxal's new plastic pallet approach to pallet design and materials were the highlight of the Pack Expo show this year", John Bean, Owner Reusable Transport Packaging
Reusable Transport Packaging is pleased to announce this year's award winner of RTP's Most Innovative Product at Pack Expo 2018 is Paxxal Inc.
Paxxal was selected for their plastic pallet's design, proprietary material, and performance capabilities as one of the most advanced and durable reusable plastic pallets available on the market today. It truly offers a low weight, sanitary, low cost and high performance plastic pallet in an eco-friendly manner.  Each Paxxal pallet is equipped with smart tracing and tracking technology.  In collaboration with Paxxal Inc., RTP plans to bring new plastic pallet solutions to the supply chain.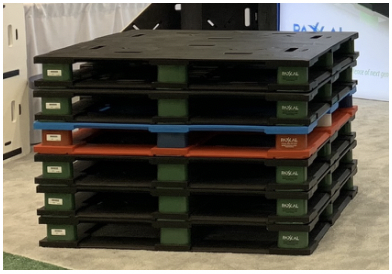 Reusable Transport Packaging is a reseller, master distributor, solution provider, and custom manufacturer of the broadest range of returnable and reusable plastic packaging available today. RTP carries thousands of products and boast an inventory that is readily available, with national and international coverage.